The Second Question
If you're a real estate agent or in any kind of sales, you need this book.
It gets to the heart of what you need to know about what's holding your production and income back. You know you have the talent and the potential to play a bigger game and to get bigger rewards from your effort.
There are plenty of books telling you what to do to succeed in your real estate business. Alan' book tells you what no one else is telling you: The first question is "What action must I take to succeed in real estate and produce on an elite level?"
The Second Question, however, is the one you struggle with on some level: "How can I motivate myself to take that action every day?" The answers to that pivotal question are in the book. Click on the image above if you want those answers.
Enlightened Happiness Audio Course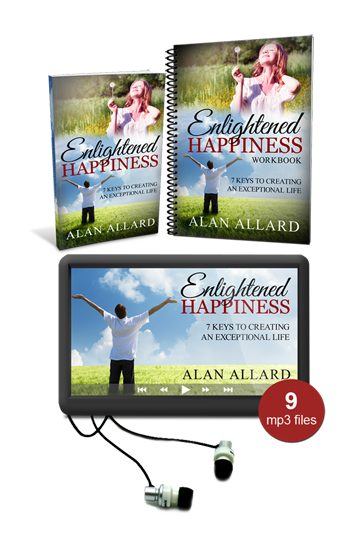 We go to school to learn math, history and social studies and we're given tests to make sure we learn it all. But where do we go to learn about how to find more happiness with who we are, to do the work we love and to have fulfilling relationships?
Where do we learn how to master our stress and grow from it rather than trying to "manage" it?
Alan Allard is an expert on happiness and is quoted as "an expert on workplace happiness" by U.S. News and World Report.
He will show you how to create deep happiness nurture it and how to live your life with intention, confidence, and mastery.
Click on the image above and find out what happiness is (the answer will surprise you!) and how to have the happiness you deserve!