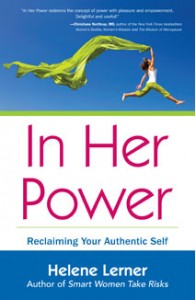 The universe is alive and vibrant, a pulsating force of energy and power--and each one of us is a part of the universe.  But that's not all--the universe is also within each of us. We have a power within that is beyond our capability to comprehend. The question is, "How can you tap into that power to experience more of the life you want?"
A colleague of mine recently wrote a book that will help you do just that. It is a practical book with exercises, inspiring stories and insights. It was written for women, but if you are a man, don't let that stop you--I didn't!
Helene is a C.E.O. and Chairman of Creative Expansions, Inc. and her company has more than 20 televised specials (among awards received are 2 Emmys and 6 Gracie Allen Awards from American Women in Radio and Television) and one of the premier websites for professional women, www.womenworking.com.
I read more than a book a week and it's not often I find one that I can't help telling others about. This is one of those rare books. Intrigued? Let me tell you a little more about Helene and In Her Power: Reclaiming Your Authentic Self:
Helene Lerner, leading advocate for women's advancement and empowerment, addresses the nine most common self-sabotaging behaviors that hold women back, and reveals simple secrets to unlocking your true power.
With practical exercises and first-person stories, Lerner gives women the tools needed to achieve confidence, creativity, and intimacy in every aspect of life—from work to personal relationships to sex. Her approach is gentle but firm, compassionate yet disciplined, and eminently useful.
Learn to:
-       Stay present in the face of challenge and discomfort.
-       Express yourself genuinely in all aspects of life.
-       Recognize and appreciate your unique destiny.
-       Act with confidence and be visible when it counts.
-       Express your sexuality and experience true pleasure.